ABCs: Amp Up your Company's Social Media Presence
With over three billion people on social media sites, the importance of social media for businesses has grown to a greater prominence than ever. According to the "Digital in 2017" report, 70 per cent of Singaporeans are active social media users on mobile, which is more than double the global average of 34 per cent. This means that simply through social media, your company can reach out to up to 70% of Singaporeans.
Facebook, of course, is the most popular platform with 43% of Singaporeans being active monthly users. The fastest up and coming social media platform, Instagram, with 18% of Singaporeans being active monthly users, overtook Twitter in just a year.
People need to know your brand! With its wide reach, social media has been found to increase brand awareness and generate more inbound traffic, which are both crucial to increase brand visibility. People rely on familiarity when buying from or doing business deals with companies or brands, and a simple photo on your company's Instagram account could go a long way towards building a positive association.
With an average fixed broadband download speed of 180.61 Mbps and average mobile download speed of 44.37 Mbps, Singapore has some of the fastest Internet speeds in the world. This means that the evolution of information shared through social media, and the social media landscape as a whole on this little red dot is developing rapidly.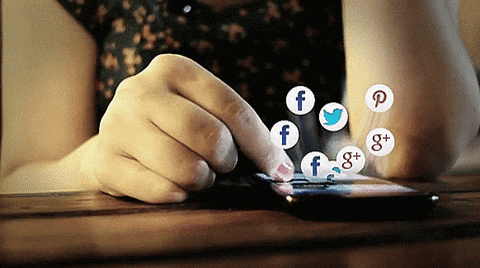 To keep up with the ever-changing social media landscape and to stand out from the crowd, Right Hook has crafted some simple ABCs that will get you to be the belle at the social media ball:
It is important for your message to be well-targeted; to whom are you speaking and through which social media platform?
Facebook is used by both B2B and B2C companies as well as consumers and tends to be more frequently used by a relatively older demographic aged 25 to 55. On the other hand, Instagram is more popular amongst those aged 18 to 35 and, given its highly visual nature, is more effective for B2C companies promoting industries such as Travel, Food & Beverage and Fashion.
The correct use of accurate hashtags is important to get people who are scrolling through thousands of food posts to stumble upon yours. For example, #sgcafefood would be more useful for avid Singaporean café hoppers rather than just #food. Although more generic hashtags will reach a wider audience, it is much easier to get lost in the mix when using them.
When boosting posts, to maximise cost efficiency and effectiveness, it is crucial to ensure that we accurately segment and target our audience, which means that before we post, we must have a very good idea who our audience is and how they behave. What time are they online? Is it different on weekends? Where do they congregate? Which neighborhoods' do they frequent? You need to know so you can improve your targeting.
In a span of 30 seconds of scrolling through your Facebook feed, how many posts have you bothered to read?
In today's day and age where time is of the essence, it is difficult for words to compete with videos and pictures. It is important to keep messages brief and to the point for our busy audience to bother reading our captions, to catch the point we are trying to bring across. It is important to get your message across by ensuring you know who your audience is. If the audience is right, then your efforts have not gone to waste.
When is the best time for you to create an event on Facebook to promote your company's major sale? What is the occasion for the sale? Why would people want to buy from you?
Context and timing are both extremely important. Pushing out a sale of summer clothing nearing the end of spring would be much more effective, compared to the end of autumn or winter. Purchasing for a cause also makes people more willing to spend. $2 more for a bag to save the environment? Sure! Against animal testing? Of course! Proceeds go to charity? Sign me up! When people feel good about buying your brand, the amount rarely matters.
Give people a reason to want, not just your product or service, but your brand and what it stands for and who's to know this just might be open more doors for bigger and better collaborations with our social media influencers, internet celebrities and other like-minded brands.
In this digital age, where social media use has increased exponentially and has become the chosen medium to consume information, businesses can't afford to linger in the background of social media sites. With so many consumers on social media, it would be a waste not to maximise the use of this platform to reach out your potential target audience and introduce yourself.
The seemingly endless information grazing past our screens every day forces businesses to amp up their social media presence in order to remain competitive. The question is how exactly do you plan to make an impact in this extremely loud social media environment?
Want to level up your social media 101? Contact us at info@righthook.com.sg.